Careers
You Belong Here
If you want to work with the best in the medical field, you belong at Infirmary Health. With over 6,100 employees, Infirmary Health offers a supportive and professionally challenging work environment along with unparalleled benefits. Infirmary Health's goal is to be the FIRST CHOICE in healthcare on the Gulf Coast and to treat our patients with the utmost care and professionalism. However, this is not possible without every single member of our team. All of our employees are critical in the continuing success of Infirmary Health. With a competitive salary, varied programs and services tuned to meet your professional and personal needs and a benefits and retirement package, working for Infirmary Health offers you the change to better, not only your career, but to also create a better future for you and your family.
Contact us today for questions or to see which position is right for you.
Apply Now Physicians Current Employees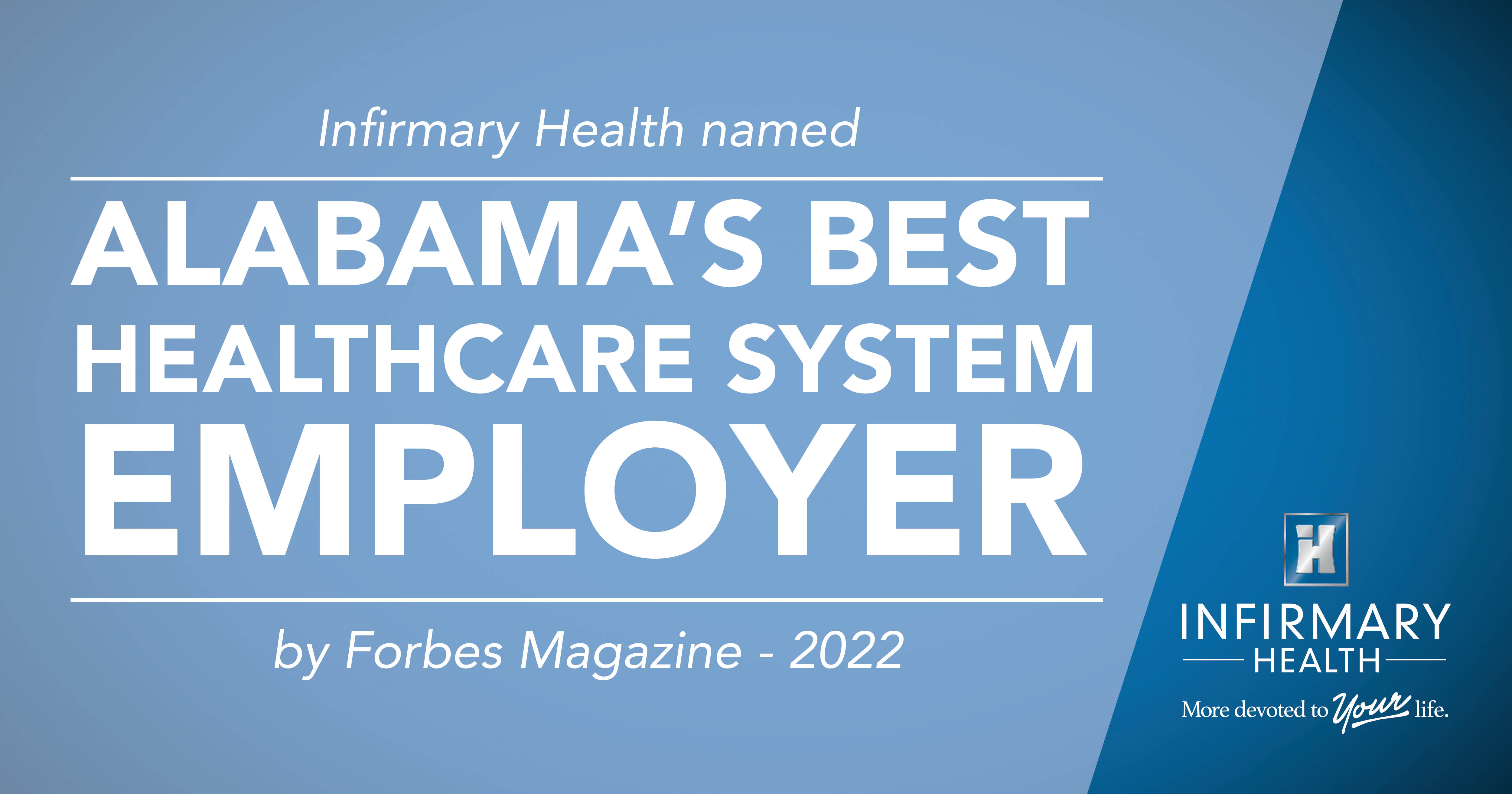 Infirmary Health follows the Centers for Medicare and Medicaid (CMS) requirements for COVID-19 vaccine compliance. This requires all employees and those who may provide services inside Infirmary Health hospitals/facilities to provide proof of being fully vaccinated or have approval for a medical or religious exemption prior to their hire date.
The Benefits of Working with Infirmary Health
Our employees are our family, and our goal is to put our employees' needs first so we can provide the best care possible to our patients. With a competitive salary and competitive benefits package, working for Infirmary Health can be the next step in helping your family to succeed.
However, we don't just care about paying our employees, we care about our employees. That is why we provide a broad range of programs and services to advance you in your career and prepare you to better yourself.
Another benefit of working for Infirmary Health is the full-service employee pharmacy. Located at the Mobile Infirmary, the pharmacy provides employees and their dependents reduced co-pays, fast prescription delivery and mail order delivery.
To learn more about pharmacy benefits for Infirmary Health employees, visit www.ihrx4u.org or call (251) 435-RX4U.
Affiliate Providers
Our Affiliate providers include Quest Diagnostic Laboratory, Crothall Healthcare and Morrison Healthcare. Click the logos below for more information.



Residency and Nursing Programs
Infirmary Health also offers state-of-the-art professional and nursing residency programs for recent graduates. With hands-on work and experienced faculty, these programs are the perfect way to jumpstart your medical career.
If you are interested in our professional residency programs, click here for more information.
If you are interested in our nursing residency program, click here for more information.