American College of Chest Physicians (CHEST) Annual Meeting - Accepted Presentations | 2023
Since the inception of the Thomas Hospital Internal Medicine Residency Program (THIMRP) in 2020, the physician residents have been actively engaged in research and scholarly activity presenting work at local, regional and national conferences including the Southern Medical Association, the Medical Association of the State of Alabama, the Southern Society of General Internal Medicine, the Alabama Chapter of the American College of Physicians, the Congress of Clinical Rheumatology, the American College of Cardiology, the American Thoracic Society, the American Society of Clinical Oncology, and most recently CHEST.
CHEST, the American College of Chest Physicians, is the global leader in advancing best patient outcomes through innovative chest medicine education, clinical research, and team-based care. The following physician residents have had scholarly research accepted as resident primary authors for presentation at the CHEST conference this October.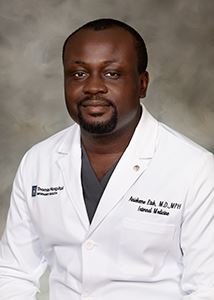 Dr. Aniekeme Etuk
Prevalence And Factors Associated With Congestive Heart Failure Among Patients Hospitalized With Carcinoid Syndrome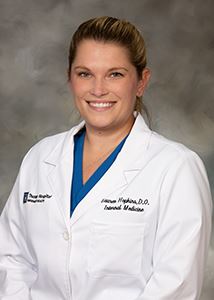 Dr. Lauren Hopkins
Marijuana-Induced Lactic Acidosis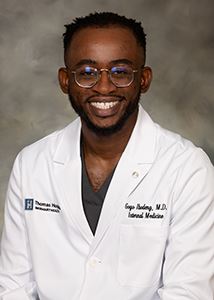 Dr. Gogo Ibodeng
Burden And Predictors Of Pulmonary Arterial Hypertension Among Hospitalized Patients With Systemic Amyloidosis
Perception And Utilization Of Lung Cancer Screening Among Resident Physicians And Attendings; Single Institutional Study In Southern Alabama: A Pilot Study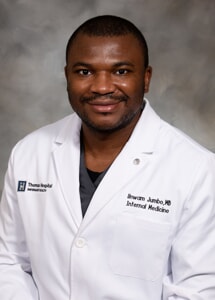 Dr. Unwam Jumbo 
A Rare Case Of Recurrent Pericarditis With Effusion Caused By Multiple Viral Coinfections (Coxsackievirus, Epstein-Barr Virus, And Parvovirus) In An Immunocompetent Patient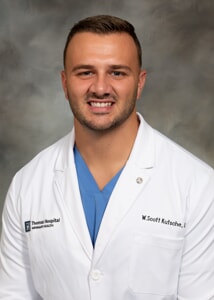 Dr. William Scott Kutsche
The Impact of Immunosuppression Caused by Uncontrolled Diabetes Increasing Tuberculosis Susceptibility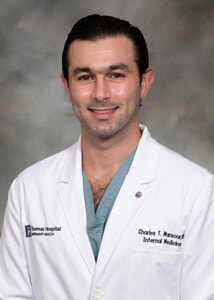 Dr. Charles Mansour
Vaping And VATS: A Case Of Bilateral Pneumothoraces In A Healthy Young Female
The Diagnostic Potential Of The Ion Robotic Navigational Bronchoscopy System: Successful Biopsy Of A 4.5 Mm Malignant Lung Nodule With An Actionable Mutation
Portal Vein Pneumatosis And Pneumatosis Intestinalis With Superior Mesenteric Artery Occlusion In A COVID-19 Patient: A Case Report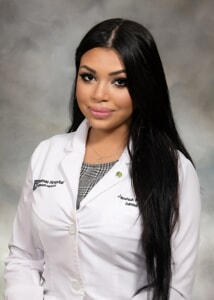 Dr. Juwairiah Mohammad – 
Antibiotic Stewardship Combined With An Intensivist Program's Impact On Carbapenem Use In Critical Care Units
The Eyes As A Window To The Heart: A Case Of Infective Endocarditis Presenting With Endophthalmitis
Frozen In Time: Hypokalemic Paralytic Attacks Leading To Severe Rhabdomyolysis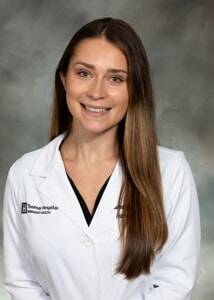 Dr. Alixandra Ryan
A Case of Ketoacidosis and Lactic Acidosis with Osmolar Gap due to Alcohol Use and Starvation Ketosis 
A Case Of Spontaneous Bacterial Empyema In A Patient With Congenital Hypoplastic Left Heart Syndrome: A Late Complication Of Fontan Circulation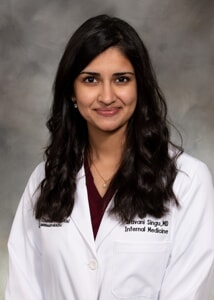 Dr. Sravani Singu
Intensivist Program's Impact On A Mixed Covid-19 ICU's Length Of Stay, Ventilator Days, Clabsi Rate, Cauti Rate, Hospital-Associated Venous Thromboembolism Rate, And Mortality 
THIMRP faculty members who are co-authors on the various scholarly research accepted for presentation at CHEST 2023 include Dr. Michael Broadwell, Dr. David Clarkson, Dr. Fulton DeFour, Dr. Adrian Divittorio, Dr. Wendell Erdman, Dr. Jose Galeas, Dr. Mina Jacob, Dr. Chibuzo Odigwe, Dr. Michael Pursley, Dr. Daren Scroggie, Dr. Suzana Sogorovic, Dr. Dhruv Vasant and Dr. Michael Wilson. Congratulations to our resident physicians and supporting faculty on their research acceptance.