Medical team helps mom with a severe neurological condition deliver her baby safely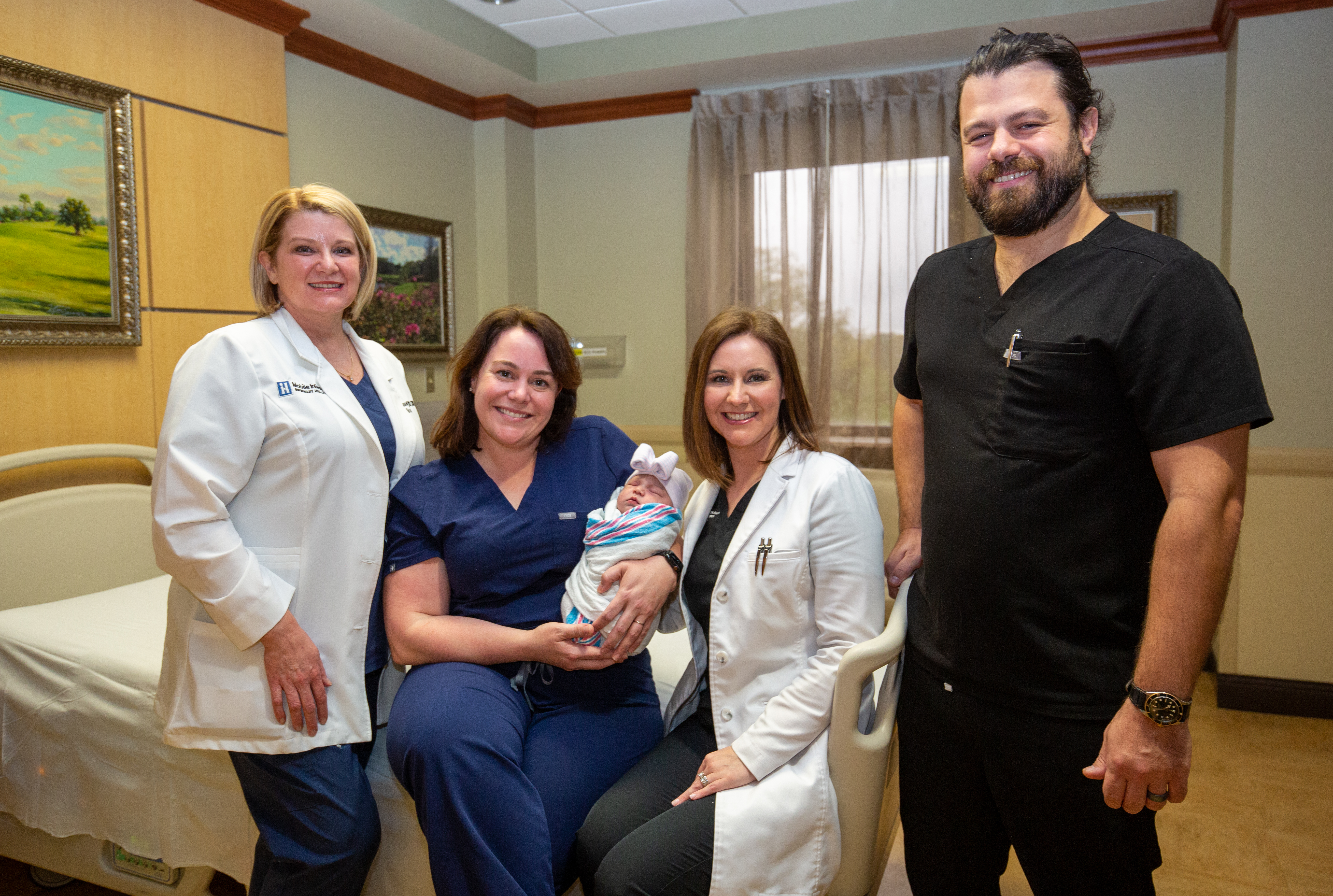 This healthy bundle of joy will soon be going home with her mom and dad thanks to the supportive care of a multidisciplinary team of physicians and providers at Mobile Infirmary. During her pregnancy, mom presented with an arteriovenous malformations (AVM) in her brain. An AVM is a snarled tangle of arteries and veins causing loss of blood circulation. It is an extremely rare condition effecting less than 1% of the population according to the American Stroke Association. This issue often develops during pregnancy or after birth and has the potential to cause hemorrhaging and even stroke creating potential danger for both mom and baby.
Dr. Quin Bixler, obstetrician with Mobile Bay OB-GYN, called on the support of Dr. Amber Gordon and Dr. John Andrew Cox with Infirmary Health's Neuroscience Center of Excellence. Together, the physicians developed a plan of care to provide the best possible outcomes for mom and baby. "It was very important for this patient to feel supported and also safe," said Dr. Bixler, "and having that support community here at Mobile Infirmary was huge. The outcomes were great for both mother and baby."
Infirmary Health provides advanced levels of multidisciplinary care to patients in a variety of specialties. In the case of high-risk births, Mobile Infirmary is able to provide critical care services to both mom and baby. Mobile Infirmary's Family Plaza includes comprehensive birthing centers, post-natal services and the support of a Neonatal Intensive Care Team and Level II specialty nursery. "Parents are the most important members of their baby's care team, and our goal is to provide the highest level of care possible for both mom and baby. We are proud to be supported by the entire breadth of services at Mobile Infirmary. This allows families to stay together in the same facility in case advanced intervention is needed for the mom and baby," shared Debra Hinton, director of Women's and Children's services at Mobile Infirmary.
Dr. Gordon, neurosurgeon, and Dr. Cox, neuro-interventionalist, were at the ready to support Dr. Bixler throughout the entire delivery process.
"This case highlights Mobile Infirmary's capability to collaborate across multiple disciplines, to facilitate the best outcomes for all of our patients," shares Dr. Gordon, "and in this situation, it was two patients, both a mother and her baby."
Originally, this patient was told that she would need to go to Birmingham to deliver her baby. Because of the collaboration at Mobile Infirmary, she was able to deliver her baby safely here at home in Mobile.
"In the event that the situation shifted, our entire team was on alert to care for both mom and baby," shares Dr. Cox, "that's the beauty of how we work together. You can reach out to other physicians, and everyone is there and willing to help and be present, which is vitally important for positive outcomes."
At Mobile Infirmary, and across the Infirmary Health system, patients can receive advanced quality of care, close to home. Thanks to this incredible team who helps to fulfill our vision: to be the Gulf Coast's FIRST CHOICE for healthcare.
Infirmary Health, here for you, here for life.