Thomas Hospital Foundation receives $50,000 donation to honor founder
Category: News
Posted On:
Written By:

Hannah Peterson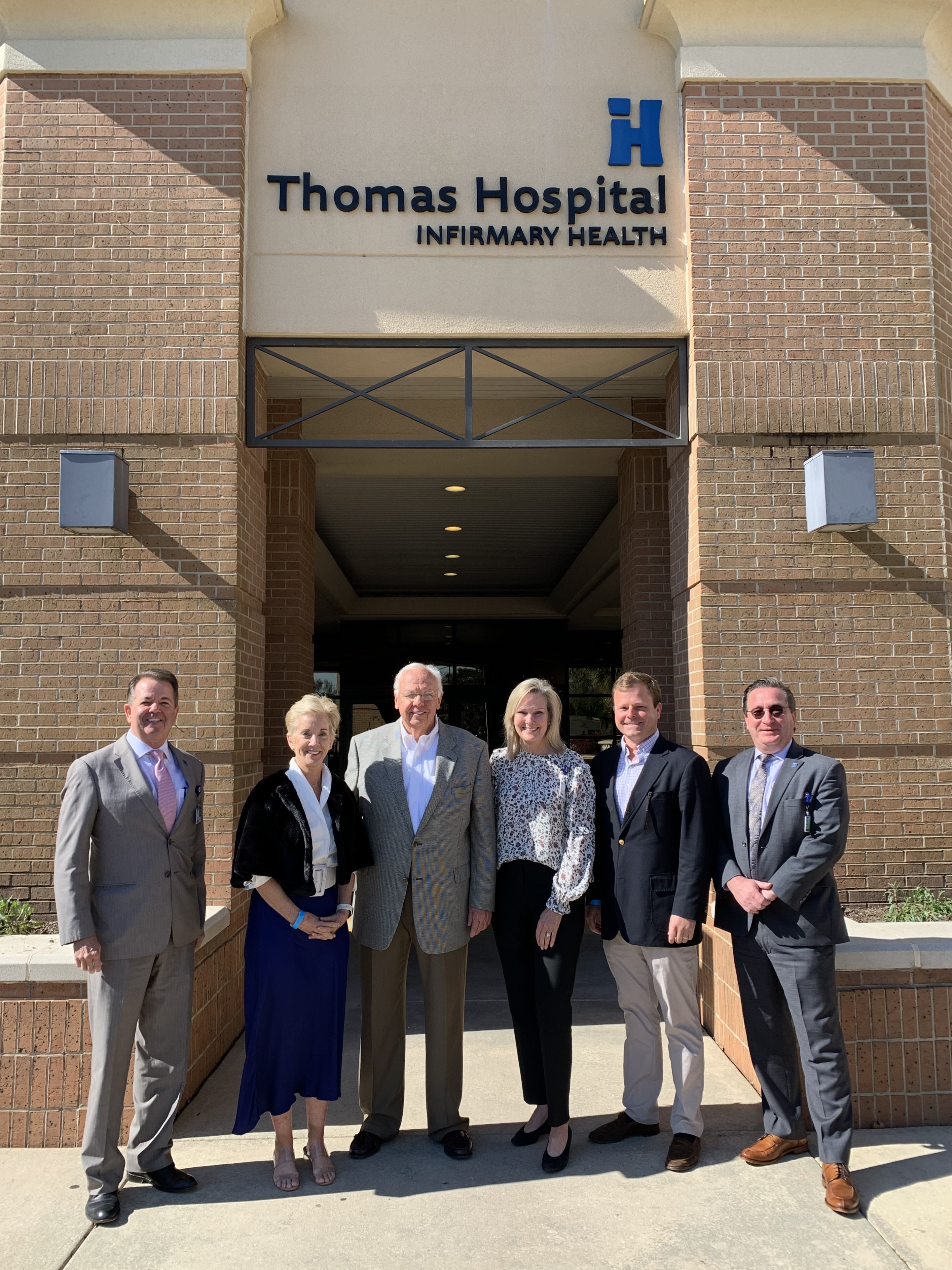 Fairhope, Ala. – Van and Mary Finger are long-time friends of the Fairhope community and of Thomas Hospital, an affiliate of Infirmary Health. In December of 2020 when Van was diagnosed with COVID-19 and hospitalized at Thomas Hospital for nine days, their connection to the hospital and its mission became even more personal.
Kathy Baugh, the former Vice President of the Thomas Hospital Foundation, learned from Van's wife, Mary, that Van was under the weather. Mary assured Kathy his illness was "no big deal" and that he was resting comfortably at home. Kathy knew well the signs and symptoms of COVID-19 and knew even better how quickly patients could turn from having mild symptoms to needing serious treatment. Kathy urged Mary to bring Van to the Thomas Hospital Emergency Department immediately, where he was eventually admitted and gratefully just missed being placed on a ventilator for breathing support.
Many who know Kathy Baugh can recall a similar time when she went above and beyond to help their families. The Finger Family felt touched by how Kathy and the staff and physicians at Thomas Hospital cared for them. Thus, in the spring of 2021, they generously made a $50,000 donation to the Thomas Hospital Foundation in Kathy's name.
"Kathy is a leader in our community, and she has done incredible work for Thomas Hospital," shared Van Finger when asked what led him to make this donation in Kathy's honor. "We have been involved with the Thomas Hospital Foundation since 1994, and we are excited to hopefully inspire others to give in Kathy's name to honor all that she has done for our community."
Since 1993, Kathy raised more than $32 million for Thomas Hospital projects, including a new birth center, a new emergency department, open heart surgery and cardiovascular services and a state-of-the-art breast center.
In December 2021, Kathy announced her well-deserved retirement. Under Kathy's direction, the $50,000 gift from the Fingers will go towards another 3D mammogram at the Thomas Hospital Breast Center. 3D mammography is essential in providing timely, accurate readings for women with a history of breast cancer or dense breasts; this addition will continue to enhance Thomas Hospital's mission to provide world-class care to Fairhope and its surrounding communities.
To make a donation to the Thomas Hospital Foundation, visit thomashospitalfoundation.org or call 251-279-1517.