Dr. Caroline McGugin honored a member of 2022's 40 Under 40 Class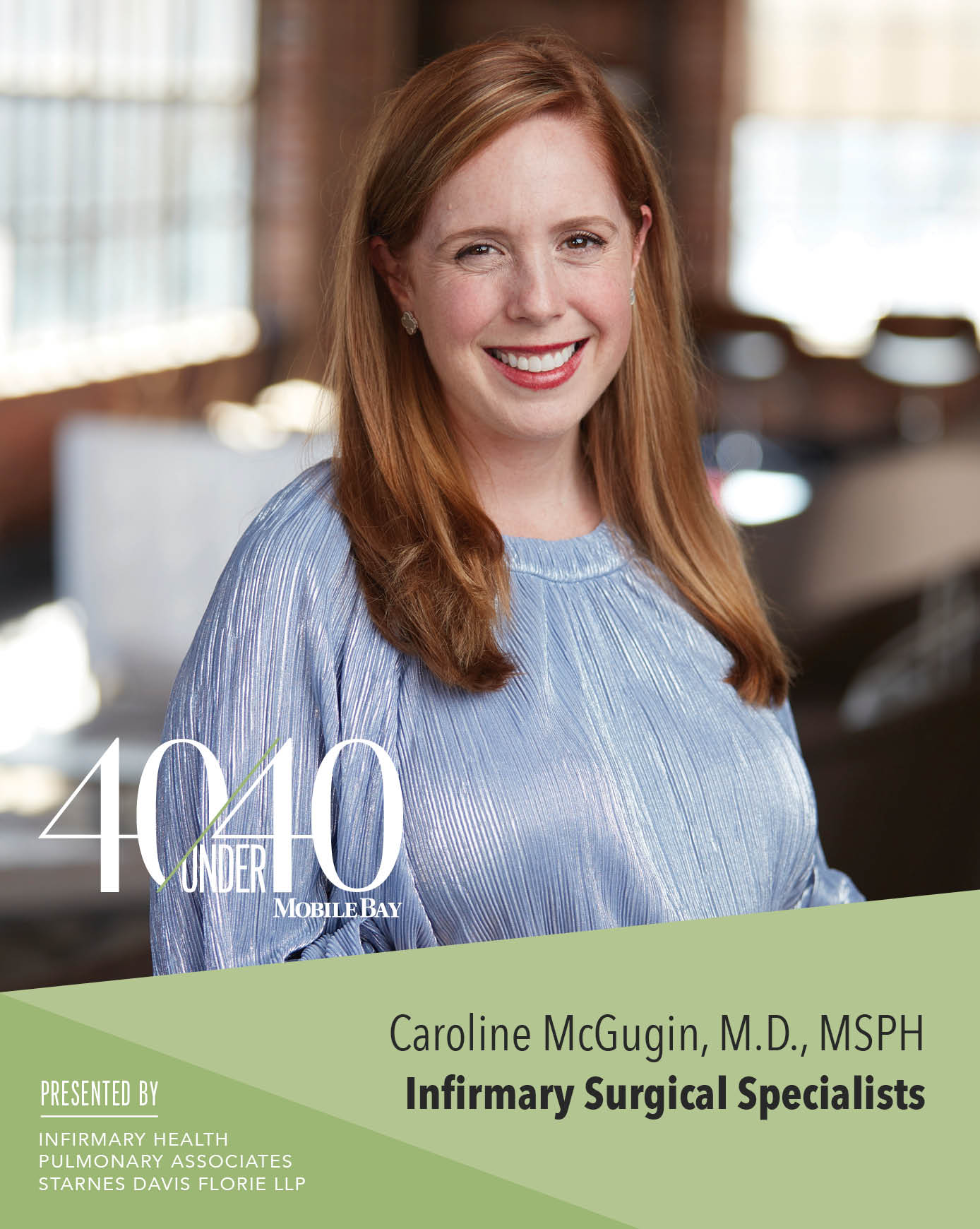 Let's celebrate Caroline McGugin, M.D., MSPH, as she was recently honored as a member of Mobile Bay Magazine's 40 Under 40 Class of 2022!
Dr. McGugin is a fellowship-trained breast surgeon, specializing in the surgical management of breast disease, including breast cancer, high-risk conditions and benign breast disease with Infirmary Surgical Specialists. She offers her patients at Mobile Infirmary and Thomas Hospital a multidisciplinary approach to the treatment of breast cancer, advanced surgical techniques, and a passion for breast cancer research. Dr. McGugin has a masters of science in public health in addition to her robust surgical training, which includes being a Harvard clinical fellow at Massachusetts General Hospital, Brigham & Women's Hospital and Dana Farber Cancer Institute. She is active in her community with her two sons and as a member of Fuse Project.
Alma mater: Vanderbilt University
Hometown: Dallas, TX
Spouse + Children: Wesley; Jack (2), Charlie (2 months)
Hobbies: Traveling, horseback riding, running and skiing
Hidden talent: Party planning!
Best advice you've ever received: Be kind, honest, work hard and never stop learning. – My Dad
High school superlative: My high school didn't do this, but I was voted best dressed of my medical school class.
If I were mayor, I would: Continue to revitalize Downtown and add more running and bike paths.
What word would you use to describe Mobile? Welcoming
Favorite thing about your job: My patients. I consider it an extraordinary honor and privilege to be a part of their cancer journey.