Dr. Amber Gordon honored a member of 2022's 40 Under 40 Class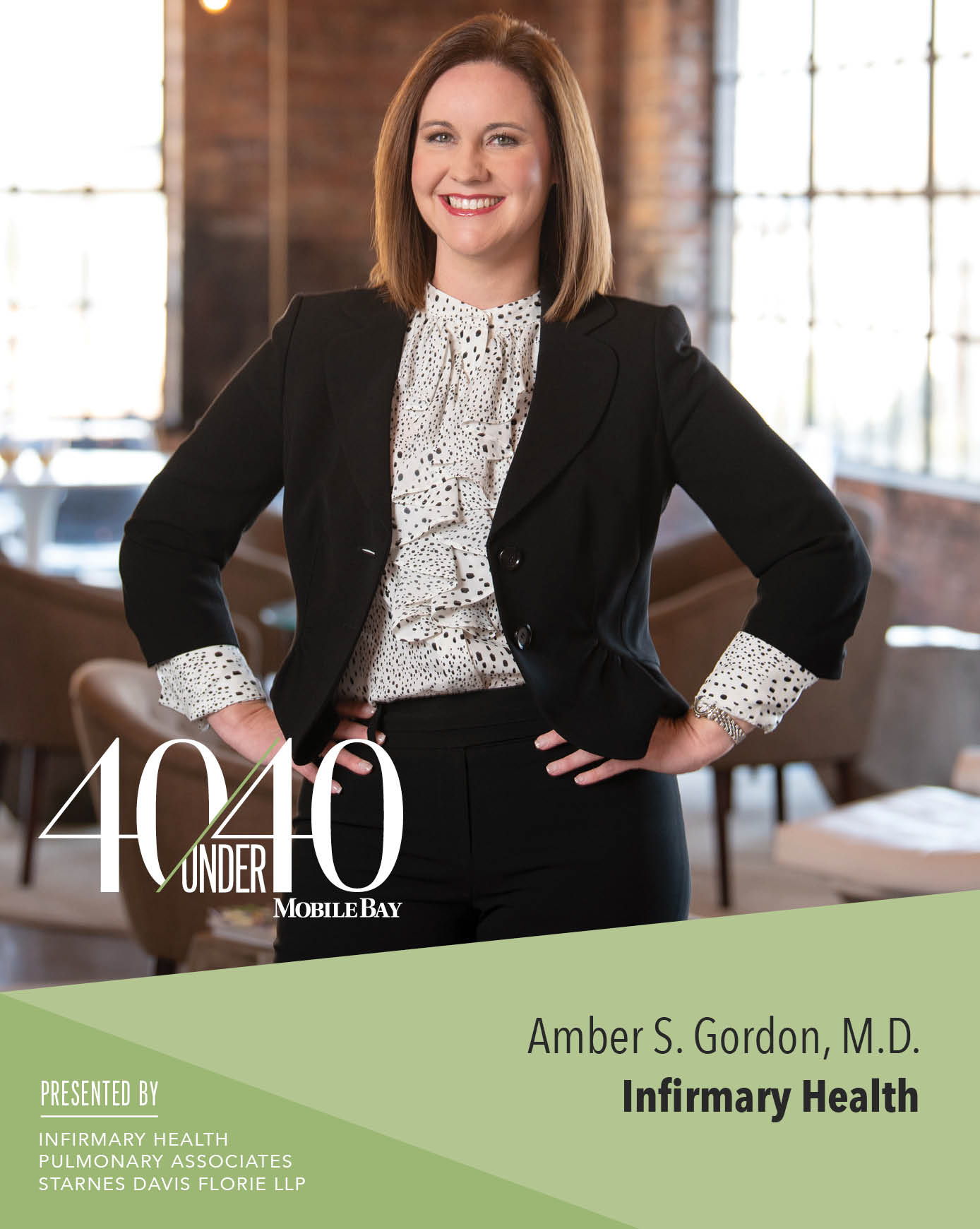 Congratulations to Amber S. Gordon, M.D., Neurosurgeon with Infirmary Neurosurgery and Director of Infirmary Health's Neuroscience Center of Excellence, for being named a member of Mobile Bay Magazine's 2022 Class of 40 Under 40!
In 2018, Dr. Gordon started the current neurosurgery practice at Infirmary Health, focusing primarily on general neurosurgery and the treatment of brain and spinal pathologies. In 2019, she developed the multidisciplinary Neuro-Oncology Board, which meets bimonthly to review cases and provide patients with an individualized treatment plan. At Infirmary Health, Dr. Gordon is also the director of the Neuroscience Center of Excellence. She is currently serving alongside Ann Bedsole as the chairwoman for the Alabama School of Math and Science (Official)'s first capital campaign to raise funds for the Dr. Edward O. Wilson Science Research Center.
Alma mater: Vanderbilt University; University of Alabama School of Medicine
Hometown: Atmore, Ala.
Spouse + Children: Brad; Alexander (5)
Hobbies: Reading John Grisham and fishing
What did you want to be when you grew up? Miss America
Favorite thing about your job: My favorite thing about being a neurosurgeon is being able to truly improve a patient's quality and function of life. I get to see, firsthand, how advances in medicine and surgery can transform a patient and their family.
Read more about our Neuroscience Center of Excellence in our most recent issue of BEST Magazine.
https://www.infirmaryhealth.org/patients-visitors/community/best-magazine/