After saving a woman's life, Dr. John Andrew Cox, interventional neurologist, touts available stroke care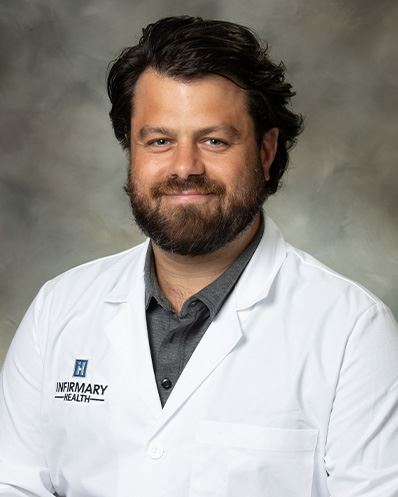 MOBILE, Ala. (December 23, 2021) - A patient of Dr. John-Andrew Cox will certainly be having a merry Christmas this year, thanks to both the stroke care technology available at Mobile Infirmary and the quick thinking of a child.
Just before Thanksgiving, a local woman was experiencing symptoms of a stroke, of which her grandson took notice. The 9-year-old noticed his grandmother's drooping face and slurred speech and ran to their neighbor's house for help. First responders were able to get on scene quickly and take the woman to Mobile Infirmary, where she was treated for a stroke.
Dr. Cox, one of the few interventional neurologists in the state, performed a mechanical thrombectomy - a procedure that removes a potentially fatal clot from the brain - on the patient, who recovered completely.
The mechanical thrombectomy is not widely available in Alabama - where only a few hospitals have the equipment and a specially trained physician available to perform the lifesaving procedure.
The thrombectomy, which can only be performed by an interventionalist like Dr. Cox and is available at Mobile Infirmary, can be a game-changer for stroke patients.
For example, a patient can present to the emergency room unable to walk or speak because of a clot in his or her brain. At the end of a successful thrombectomy, the patient is typically able to speak and move and deficits typically caused by a major stroke are relieved.
Recognizing the symptoms of a stroke are easy, utilizing the acronym BEFAST – balance, eyes, facial drooping, arm weakness and speech, followed by time - a quick response to summoning emergency medical assistance.
Because of the child who recognized the symptoms and quickly called for medical assistance, Dr. Cox's patient will be celebrating the holidays with her family - a time the physician says is perfect to talk to children about how to call 911 if he or she thinks something could be medically wrong with a loved one.
"Children are home with their parents and with family members for the holidays - what better time to talk to them about how to recognize stroke symptoms and call 911 for help," said Dr. Cox "Knowing how and when to make that call could mean the difference between life and death."
Children as young as 3 can be taught to dial 911 for assistance, even if the child cannot articulate what is happening to the dispatcher. By making the call, even without much information, emergency responders can visit the home and make sure all is well for those inside.
Stroke, which happens every 40 seconds, is the No. 4 cause of death in Alabama and the state ranks in the top five for most stroke deaths in the country.
Mobile Infirmary has been honored with numerous stroke-related quality designations, including the American Heart Association/American Stroke Association's Get With the Guidelines Gold Plus Stroke, the highest level a hospital can achieve for stroke care.